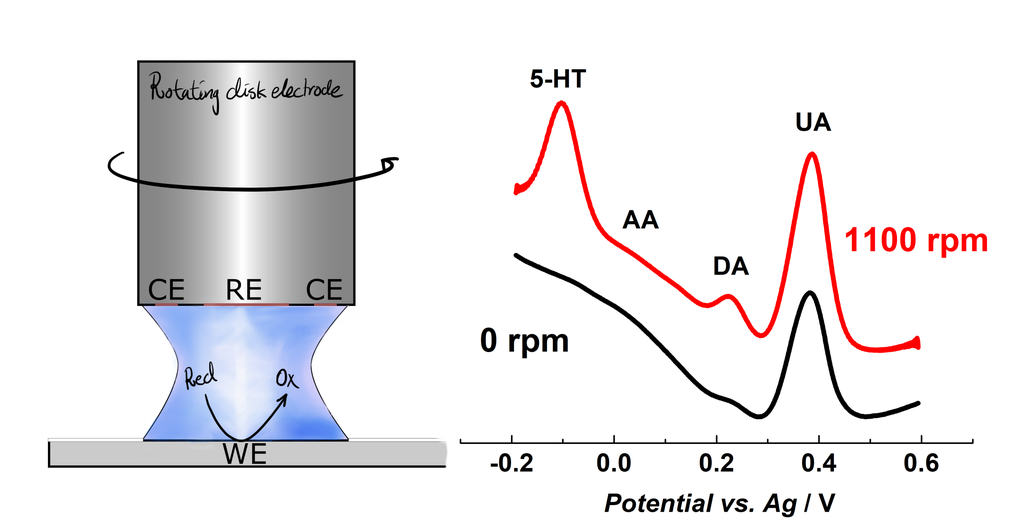 Det blev en ny uppdatering ganska snart igen. Min student Magdalena har jobbat hårt med sin roterande droppe de senaste åren för att få praktisk nytta av systemet. Vi har publicerat ett par artiklar tidigare om den roterande droppen, men då har det mest handlat om att visa upp den nya uppställningen och att karakterisera den. I artikeln vi publicerade nu i Analytical Chemistry1 har vi använt droppen för att mäta mängden serotonin i musblod2.
Serotonin och dopamin är två av hjärnans signalsubstanser. Signalsubstanser förmedlar nervsignaler mellan olika nervceller. De är viktiga i många av kroppens funktioner. Att ha för höga eller för låga nivåer av signalsubstanser kan vara orsak till, eller symptom på, många olika sjukdomar. Låga nivåer av dopamin till exempel är associerat med Parkinsons sjukdom. Så att snabbt och enkelt kunna mäta nivån av signalsubstanser är intressant ur ett vårdperspektiv, men det är också intressant för folk som studerar neurologiska processer.
Serotonin och dopamin är båda monoaminer, som kan oxideras (dvs förmås att avge en elektron) på en elektrod och därmed mätas på elektrokemisk väg. Problemet med detta är för det första att serotonin och dopamin bara finns i blod i väldigt små koncentrationer och, för det andra, att de oxideras vid liknande potential som t.ex. askorbinsyra och urinsyra3, som båda finns i blod. Att två ämnen oxideras vid samma potential gör dem svåra att särskilja för att oxidationstopparna (se bilden uppe till höger) överlappar varandra.
In den nyligen publicerade artikeln kombinerade vi två saker vi tidigare forskat om: dels den roterande droppen, dels en metod för att modifiera elektrodytan för att separera oxidationspotentialerna för de aktuella ämnena. Kombinationen gjorde att vi kunde mäta nivåer av serotonin och dopamin vid låga nivåer. I bilden längst upp kan man se skillnaden mellan mätning med (röd linje) och utan (svart) rotation. Det är stor skillnad i storleken på topparna i voltammogrammen.
Tyvärr visade det sig att för dopamin var vår detektionsnivå lite för hög för att kunna mäta nivåerna i blod, men vi lyckade mäta serotonin i prover med musblodserum. Labbmöss är ganska små, så mängden blod man kan få ut är liten så därför är den roterande droppen i det här fallet ett utmärkt alternativ.
M. Kundys-Siedlecka, E. Bączyńska, M. Jönsson-Niedziółka, Electrochemical Detection of Dopamine and Serotonin in the Presence of Interferences in a Rotating Droplet System, Anal. Chem. (accepted). (link)
Det var grymt mycket problem med att få mätningarna återupprepningsbara. Det var nära att vi gav upp flera gånger och Magdalena hatade när jag sa att vi skulle testa en sak till bara för att vara säkra… Men efter mycket blod (bokstavligen!), svett och tårar har vi äntligen lyckats få mätningarna publicerade!