The bicycle saves my life every day
Today it was time to lift the bike out of the cellar, oil the chain, tighten the bolts and get on for the first ride of the season. Ok, I do ride my bike to work everyday, but today it was the racer that was taken out. So while Peter Sagan fought his way around Flanders I took a leisurely trip around Warsaw.
The quote at the top is from Robert Penn's absolutely lovely litte book "It's all about the bike". If you haven't read it, you should! It perfectly describes the feeling of getting on a good bike – almost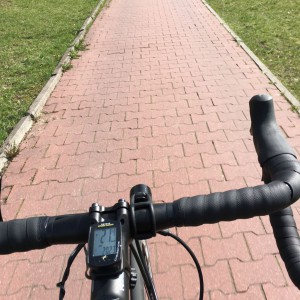 effortlessly pushing it up to 30 km/h and beyond and feeling the world it open for you to go anywhere. As Penn puts it "[have you ever], just once, sat on a bicycle with singing heart and felt like an ordinary man touching the gods". Today was such a day! I just went for a short ride, to see if the bike was in good condition after the winter hibernation, but without a goal or time to keep I felt like the king of the world.
I read somewhere, maybe it was in Penn's book, that the bicycle is one of the most energy-efficient means of transport there are. Finishing a half-marathon, like the one today here in Warsaw, in under two hours is a task requiring great effort and preparation for most people, and most certainly from me, but on a bike, even an inexperienced rider can do the same distance in half the time without too much exertion. Coincidentally my ride was just north of a half-marathon, and the 55 minutes riding included slowly rolling past the photographs at the outdoor exhibition on the fence to Warsaw's famous Łasienki park.
Although Warsaw is dreadful city for bicycling it's an even worse city for any other means of getting around. The incessant traffic-jams make cars, buses and trams instrument of torture. Deprived of all freedom of movement driving is constant source of irritation, stress and anger. So the bike is truly saving my life every day.